Single package:
$4,050
Twin package:
$2,760
Triple package:
$2,350
Airport Limousine Bus transfer coupon (one-way)
Domestic flight between Tokyo and Sapporo (one-way)
7 Day Japan Rail Pass
JPY1,500 Pasmo Card
3 Day Car Rental
Nikko World Heritage Tour
3 nights of accommodation at the Shinagawa Prince Hotel in Tokyo
2 nights of accommodation at the Hotel Sonia in Otaru inc. breakfast
2 nights of accommodation at the Keio Plaza Hotel Sapporo
2 nights of accommodation at the Hotel Resol Hakodate
2 nights of accommodation at the Art Hotel Hirosaki City inc. breakfast daily
2 nights of accommodation at the Hotel Metropolitan Sendai East
Day 10: Hakodate - Hirosaki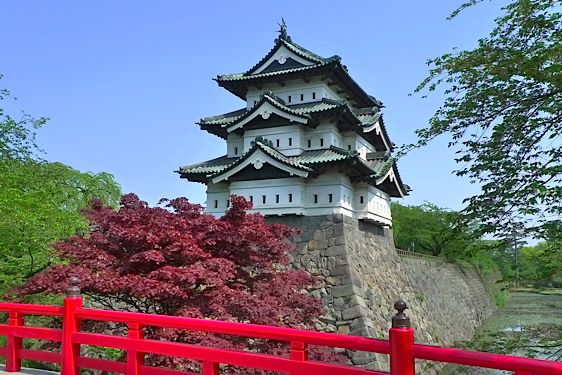 Hirosaki Castle
Check-out of your accommodation and from Hakodate Station board a Limited Express Super Hokuto train to Shin-Hakodate-Hokuto Station. (20 mins) Make your way to the bullet train lines and board a Hayabusa bullet train to Shin-Aomori Station. (60 mins) Change trains and board a JR Ou Line train to Hirosaki Station. (40 mins)
Your accommodation at the Art Hotel Hirosaki City is a one minute walk from the station.
Hirosaki is a small castle town in Aomori with a varied architectural heritage featuring temples, samurai residences and a castle from the Edo period, and churches, libraries and civic buildings from the Meiji Period when many foreign scholars were invited to Hirosaki.
With Aomori producing more than half of the nation's apples, and being the birthplace of the Fuji apple, you will find apple-incorporated sweets throughout Hirosaki. A Hirosaki Pie Guide Map will direct you to 47 of the best apple pies around.
After check-in, commence your exploration of Hirosaki by boarding a Dote-Machi city sightseeing loop bus from in front of Hirosaki Station to Shiyakusho-mae bus stop. (15 mins) From here it is a two minute walk to the Otemon Gate of Hirosaki Castle (09:00 – 17:00/JPY310). Built in 1611, this castle of the Tsugaru Clan is one of the 12 remaining original castles in Japan.
Visit the Tsugaru-han Neputa Village (09:00- 17:00/JPY550) where you can watch as artists create traditional crafts, and enjoy a performance of the Tsugaru-jamisen, a three-stringed folk instrument.
A short walk from here is the Nakacho Traditional Buildings Preservation District where the traditional townscape has been maintained. Visit the Kawasaki Dyeing Plant where the traditional art of natural indigo dyeing is still carried out.
*Your stay at the Art Hotel Hirosaki City includes breakfast daily
Stay: Art Hotel Hirosaki City - 1/2
Japan Package Tours will be happy to prepare you a personalised itinerary to suit your budget and preferences.
Contact us now for a no-obligation quotation.