Single package:
$5,050
Twin package:
$3,560
Triple package:
$3,140
14 Day Japan Rail Pass Ordinary
3 nights at the Hotel Granvia Hiroshima - Hiroshima
3 nights at the Miyako Hotel Kyoto Hachijo - Kyoto
2 nights at the Hida Hotel Plaza - Takayama
2 nights at the Palace Hotel - Hakone
3 nights at the Shinagawa Prince Hotel - Tokyo
Day 01: Arrive in Japan
Arrive in Tokyo
Welcome to Fukuoka!
Board a Subway to Hakata Station. (10 min) Within Hakata Station activate your 14 day Japan Rail Pass and board the bullet train to Hiroshima Station. (50 min). Your accommodation at the Hotel Granvia Hiroshima is a two minute walk from JR Hiroshima Station.
Stay: Hotel Granvia Hiroshima - 1/3
Day 02: Hiroshima
Hiroshima Castle
Spend you day exploring the sights of Hiroshima.
Hiroshima was a city left in ashes after the Atomic bomb was dropped. Hiroshima has made a remarkable recovery and has been rebuilt as a modern thriving city. The area which felt the full force of the bomb has been transformed into a Peace Memorial Park with gardens of great beauty and nearly forty memorials to the victims of the atomic explosion. Hiroshima is now known as the "International City of Peace" dedicated to a total ban on the use of Atomic weapons. A visit to the Peace Memorial Park should be included in every Hiroshima itinerary. To visit the Park, board a tram in front of Hiroshima Station and get off at Genbaku Domu-Mae (Atomic Bomb Dome) stop (cost 150 yen - 15 min.)
Using your tour map, visit a number of exhibits including the Atomic Bomb Dome: Positioned below the epicentre, this skeleton of melted steel and concrete has been left as it was after the bomb was dropped. It stands as a stark reminder of the city's August 6, 1945 bombing.
The highlight of the Park is the Hiroshima Peace Memorial Museum. This state of the art museum focuses on Hiroshima both before and after the explosion. It also tells the story of Hiroshima's rapid rebuild into the beautiful city it is today.
On the way back to station, make sure you visit Hiroshima Castle. This castle was first built in 1589 until its destruction in 1945. Having been rebuilt in all its glory, it is now used to exhibit historic artefacts from Japan's feudal past.
In the evening, visit one of the many okonomiyaki restaurants surrounging Hiroshima Station. Okonomiyaki is a Japanese style noodle layered pancake which is cooked on the hotplate in front of you. Contents may include pork, chicken and seafood. Okonomiyaki is always a fun and economical dinner.
Stay: Hotel Granvia Hiroshima - 2/3
*Hiroshima Peace Park
A quick tram ride from Hiroshima Station
There are over 300 Cherry Blossom trees in Hiroshima Peace Park. Cherry Blossom season adds to the exquisite beauty of an already unforgettable place.
Day 03: Hiroshima - Miyajima - Hiroshima
Mayajima Shrine
Take a day trip to Miyajima Island - a very popular island with foreign tourists who want to see the 'Old Style Japan'. Board a local train from Hiroshima Station to Miyajima Guchi Station. (25 min) Using your Japan Rail Pass, board the JR ferry to Miyajima Island. (10 min) Miyajima is famous for the Itsukushima Shrine whose long wooden corridors reach out to sea. Miyajima is also famous for Mount Misen which boasts one of the three best panoramic views in Japan. Make sure you take the cable car to the peak. Spend the day exploring the many walks, temples and gardens of Miyajima. Make your way back to Hiroshima in the late afternoon.
Stay: Hotel Granvia Hiroshima - 3/3
Day 04: Hiroshima - Kyoto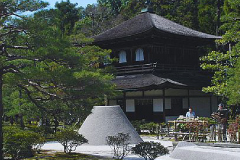 The Silver Pavilion
Check out of the Hotel Granvia Hiroshima and board a bullet train Kyoto Station. (2hrs) Walk across the road to your accommodation at the Miyako Hotel Kyoto Hachijo. After check in, commence exploring the historical city of Kyoto. Using the maps provided, try a walking tour of Kyoto. This time of year will be a great time to walk down the Philosopher's trail*. The Walk of Philosophy (Tetsugaku no michi) is a pleasant path besides a canal that connects Ginkakuji (Silver Pavilion) with the vicinity of Nanzenji. Cherry trees are planted along most of the over one kilometre long path, making it one of Kyoto's most popular spots for Hanami (Cherry Blossom Viewing) in Spring. The trees are usually in bloom in the beginning to mid April. In addition, several smaller Temples and a few restaurants can be found along the way.
Stay: Miyako Hotel Kyoto Hachijo - 1/3
*Philosopher's Trail
Starting at Ginkakuji Temple The Philosopher's Trail is a pleasant path besides a canal that connects Ginkakuji (Silver Pavilion) with the vicinity of Nanzenji. It is lined with hundreds of Cherry Trees
Day 05: Kyoto
Kiyomizu Dera Temple
Today continue your exploration of Kyoto and visit the nature area called Arashiyama. From Kyoto Station board a JR Sanin-Main Line (Sagano Line) train to JR Saga-Arashiyama Station. (15 min)
Arashiyama is particularly famous for its beautiful scenery. Visit Tenryuji-Temple (8:30am – 17:30pm/JPY500). The main attraction of the temple is the Zen garden dating back to the 14th century.
Leave Tenryuji-Temple to head down to the bamboo groves and peer up at the towering bamboo from the narrow pathway. The bamboo is used to manufacture many local products such as baskets, cups and boxes.Other places of interest in the Arashiyama area include Togetsukyo Bridge and the Monkey Park atop Mt. Iwatayama (09:00 – 17:00/JPY550).
In the late afternoon, return to your accommodation by boarding a JR San-in Main Line (Sagano) train from Saga Arashiyama Station back to Kyoto. (16 min)
In the afternoon, board a local bus to the base of Kiyomizu Dera Temple. Walk up this attractive winding road lined with colourful souvenir and craft shops. Kiyomizu Dera is famous for its giant wooden stage overlooking panoramic views of Kyoto and its main hall purely constructed of wood and sustained by huge columns and beams without the use of a single nail, screw or bolt.
Be sure to visit the Sky Plaza Observation Deck on top of Kyoto Station for a free panoramic view of the surrounding area of Kyoto. This modern station also contains a large shopping mall, specialty shops and restaurants.
Stay: Miyako Hotel Kyoto Hachijo - 2/3
Day 06: Kyoto - Nara - Kyoto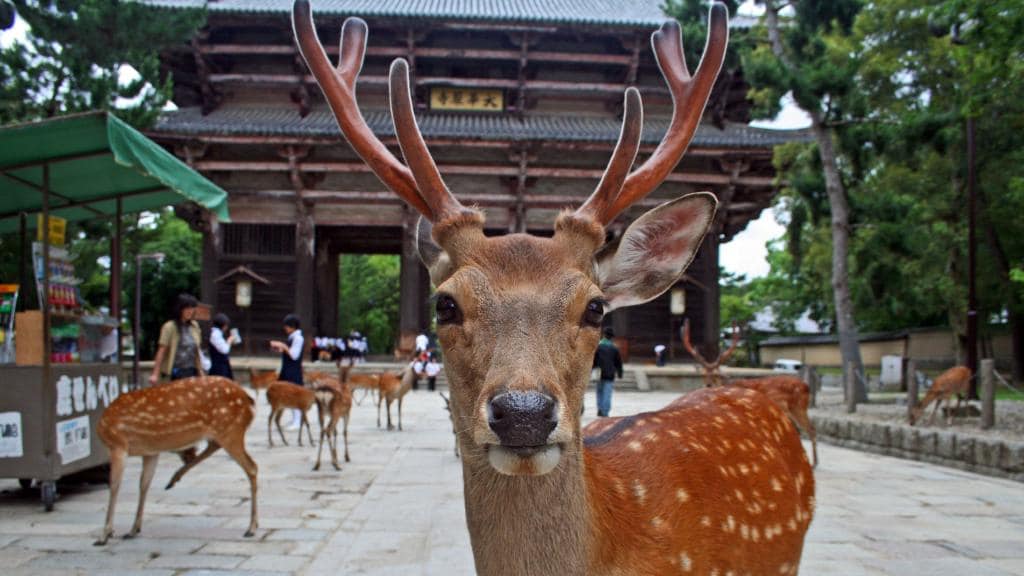 Deer in Nara Park
A full day of sightseeing awaits you in Nara. But first, take a trip to visit Kyoto's famous Fushimi Inari Taisha Shrine. Anyone who has seen Memoirs of a Geisha will be familiar with the thousands of red Torii gates which stretch towards Mt Inari.
From Kyoto Station, board the JR Nara Line to JR Inari Station. (5 min) Follow the signs and the walking path leading up to the shrine. It is one of the oldest Shinto Shrines in Kyoto and is famous for its thousand red torii gates which lead up the mountain. The shrine is dedicated to Inari - the Shinto god of rice, commerce and business. Each of the torii gates have been donated by different Japanese businesses.
From JR Inari Station continue on to Nara. (40 min) Here, you can find peace of mind and natural beauty as you uncover the many treasures of Japans former capital (710-784AD).
From JR Nara Station all of the sightseeing is within comfortable walking distance. Walk through the town towards Nara Park. Should the weather be kind you may like to have your lunch in the picturesque Nara Park amongst the many tame deer that roam the area. At the end of the Park is the World Heritage listed cultural asset Todaiji Temple - the worlds largest wooden building, which houses the Giant Buddha that soars 16 metres in height. Return to Nara Station via Nara-machi, an old precinct full of traditional houses, shops and tearooms in calm and pleasant surroundings, giving a good contrast to the great temples and old burial mounds.
Board a JR Nara Line train back to Kyoto Station in the evening.
Stay: Miyako Hotel Kyoto Hachijo - 3/3
Day 07: Kyoto - Takayama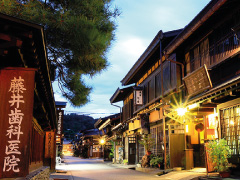 Takayama Old Town
Check out of the Miyako Hotel Kyoto Hachijo and take a bullet train from Kyoto Station to Nagoya Station. Change trains at Nagoya Station and board a limited express train to Takayama.
This train journey through the Japan Alps will be one of the highlights of your trip to Japan.
Takayama is a medieval town located in the mountains of Gifu Prefecture. It has been left behind by modern Japan and contains many historical and natural treasures for you to explore. Upon arrival at Takayama Station, take a short walk to your accommodation.
After check in, take a stroll to the centre of the old town, Sanmachi. Sanmachi is a 10 minute walk to the east of Takayama Station (just across the river). The old streets are lined with stores selling traditional wares, craftsmen workshops, inns, breweries, museums and antique shops. Continue your walking tour of Takayama and visit Teramachi, which boasts a number of temples and shrines before you reach Shiroyama Park. This park is famous for its lush greenery and views of the Japan Alps. This entire walking tour will take about 2 hours.
Stay: Hida Hotel Plaza - 1/2
Day 08: Takayama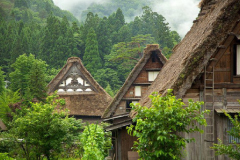 Gassho-zukuri style housing
Begin the day by visiting the Takayama Morning Markets located on the banks of the Miyagawa River. (7am -11am daily). As Takayama is an agricultural region, fresh fruit and vegetables of the season are sold in addition to local arts, crafts and souvenirs. The markets are located a 10 minute walk from Takayama Station.
Next, take a bus from Takayama Station to the Hida Folk Village. (10 min). Purchase a discount ticket called Hida-no-Sato-Ken, which includes the cost of the return bus fare and admission. (900 yen). The Hida-no-Sato is an open-air museum, displaying traditional farm houses with their unique gassho-zukuri style (thatched roofing), preserved in their original state in a beautiful mountain setting. . This is an excellent opportunity to witness the rural life of Japan from a day gone by. In the eastern section of the village, try your hand at making candles and senbei (rice crackers) and shopping for local crafts.
Stay: Hida Hotel Plaza - 2/2
Day 09: Takayama - Hakone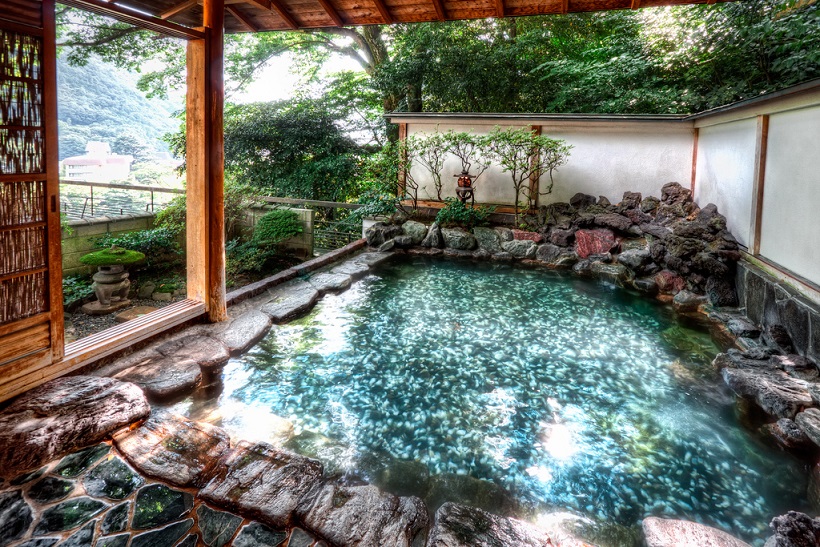 Hot Spring at Hakone Hotel
Check out of the Hida Hotel Plaza and using your Japan Rail Pass, board a Limited Express train from Takayama Station to Nagoya Station. Within Nagoya Station, change trains and board a bullet train to Odawara Station.
At the station, purchase a 3 Day Hakone Free Pass which entitles the holder unlimited use on the local transport and discounted entry to the many Musuems, Galleries, Temples and Shrines within Hakone.
From Odawara station take the Hakone Tozan Bus for Togendai (via Hakone-Yumoto) and get off at Hakone Hotel Mae. (50 min). Weather permitting, extraordinary views of the Japan Alps and Mount Fuji can be seen.
After check in, spend the afternoon exploring the sights of Hakone. Your hotel has an outdoor onsen (hot spring) which is the perfect way to relax after travelling for a number of days.
Stay: Hakone Hotel - 1/2
Day 10: Hakone/Mt Fuji
Mt Fuji
Using your Hakone Free Pass and the provided tourist maps & brochures, explore the many sites of the Hakone region which includes:
Lake Ashi: The 400,000 year-old volcanic crater lake that never freezes! Lake Ashi is a popular place for fishing, boating and water sports. Use your "Hakone Pass" to cruise the lake by pirate ship. On a clear day you will be able to take pleasure in Mt. Fuji's inverted reflection in Lake Ashi.
Owakudani (Greater Boiling Valley): Accessible by ropeway this entire gorge reeks of sulphurous fumes, spewing clouds of steam from crevasses among bubbling hot springs.
Ancient Cedar Avenue: Enjoy a leisurely stroll along this superb 2km flora-lined winding passage; once the pathway to Edo (Tokyo).
Stay: Hakone Hotel - 2/2
Day 11: Hakone - Tokyo
Tokyo at night
Check out of the Hakone Hotel and board the bus back to Odawara Station. Within the station board a Hikari bullet train to Shinagawa Station.
Shinagawa is a vibrant suburb in the heart of Tokyo with a wide range of restaurants and shopping. Your accommodation at the Shinagawa Prince hotel is a two minute walk from the station.
Stay: Shinagawa Prince Hotel 1/3
Day 12: Tokyo: Ueno Park
Bright neon lights of Akihabara
Continue your sightseeing of Tokyo and board a Yamanote Line train from Shinagawa Station to Ueno Station. Walk through the long lanes of the Ueno Markets which run alongside the railway line. Here, a wide range of goods are sold; from teas, spices, seafood, fruit and vegetables to fashion wear.
Next, take the subway to Asakusa, one of the most historical parts of Tokyo. This area is famous for the Asakusa Kannon Temple and the surrounding Nakamise Shopping Arcade. Explore the long arcades full of souvenir shops selling authentic Japanese arts and crafts.
Next, take a train to Akihabara or Electric Town as it is known to foreign tourists. Akihabara sells the latest in computers, TVs, videos, DVDs and everything electrical. It is worth just the 'window shop' to see all of the latest models of electronics.
In the late afternoon, board a subway to the bright lights of Ginza. Exploring the great shopping and nightlife of Ginza is an unforgettable. Make sure you visit the basement of any of the department stores to visit the most lavish food courts.
Stay: Shinagawa Prince Hotel - 2/3
Day 13: Tokyo: Shinjuku, Harajuku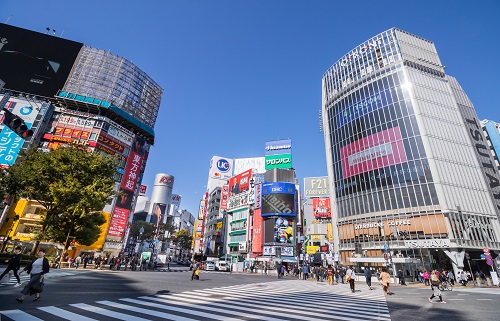 Shibuya Crossing
Today will include more Cherry Blossom viewing. Board a Yamanote Line to Shinjuku and explore Shinjuku Gyoen. Shinjuku Gyoen is a 10 minute walk from Shinjuku Station's New South Exit. Shinjuku Gyoen is a large park featuring more than one thousand Cherry Trees of over a dozen varieties in Western and Japanese style gardens. There is an entrance fee of 200 Yen, and the park is only open between 9:00 and 16:30.
After lunch, board a train to Harajuku. Walk through the densely wooded park till you reach the Meiji Shrine. There is no better example of classic Shinto architecture in Tokyo. Many young Japanese couples chose to have their wedding photos in the grounds of this beautiful Temple. Return to Harajuku Station and walk down Takeshita Street for one of the busiest shopping areas in Tokyo.
Next, board the Yamanote Line train one stop to Shibuya Station and use the Hachiko-Guchi Exit for one of the busiest shopping and entertainment districts in Tokyo. Walk over to Starbucks across the road and admire the busiest pedestrian crossing in the world with thousands of people crossing each time the light turns green.
Stay: Shinagawa Prince Hotel - 3/3
Day 14: Tokyo - Home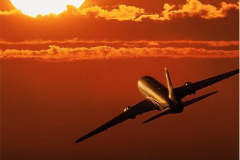 Farewell Japan
Spend your last morning in Japan completing any final sightseeing or shopping.
For those departing from Tokyo, board the Narita Express train from Shinagawa Station to Narita Airport. (80 min)
*This airport train must be reserved in advance.
Make sure you check in for your flight 2 hours prior to its departure time.
Japan Package Tours will be happy to prepare you a personalised itinerary to suit your budget and preferences.
Contact us now for a no-obligation quotation.