Single package:
$4,430
Twin package:
$3,220
Triple package:
$2,870
14 Day Japan Rail Pass
JPY 1,500 Pasmo Card to use on the non JR trains
Kyoto Guided Morning Tour
Ainokura & Shirakawago Tour
Tokyo Guided Morning Tour
1 night at the Meitetsu Grand Hotel - Nagoya
2 nights at the Hida Hotel Plaza inc b/fast - Takayama
3 nights at the Shinagawa Prince Hotel - Tokyo
2 nights at the Hakone Hotel inc b/fast - Hakone
2 nights at the Hotel Granvia Hiroshima - Hiroshima
3 nights at the Miyako Hotel Kyoto Hachijo - Kyoto
Highly recommended!!!! This is by far our most popular tour, specially designed for first time visitors to Japan with the luxury of a two week stay. Using your 14 day bullet train pass, start your journey in Nagoya before marveling at the nostalgia of Takayama, the fun, excitement and energy of the modern capital Tokyo, then to the enchanting resort area of Hakone and Mount Fuji the courage of Hiroshima and historical climax of the ancient city of Kyoto. Appropriately dubbed the Complete Experience Tour you will cherish this dream holiday to Japan.
Day 09: Hakone / Mt. Fuji - Hiroshima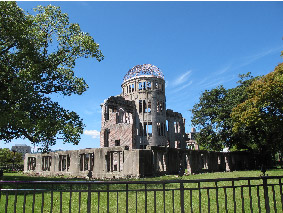 Hiroshima Peace Memorial
Check out of the Hakone Hotel and board the Hakone Tozan Bus to Odawara Station (55 min). At Odawara Station board a Hikari bullet train to Shin Osaka Station. (2hrs and 20 min) Within Shin Osaka Station, change trains and board a Sakura bullet line train to Hiroshima. (80 min)
Your accommodation at the Hotel Granvia Hiroshima is a two minute walk from JR Hiroshima Station.
Hiroshima was a city left in ashes after the Atomic bomb was dropped. Hiroshima has made a remarkable recovery and has been rebuilt as a modern thriving city. The area which felt the full force of the bomb has been transformed into a Peace Memorial Park with gardens of great beauty and nearly forty memorials to the victims of the atomic explosion. Hiroshima is now known as the "International City of Peace" dedicated to a total ban on the use of Atomic weapons. A visit to the Peace Memorial Park should be included in every Hiroshima itinerary.
To visit the Park, board a tram in front of Hiroshima Station and get off at Genbaku Domu-Mae (Atomic Bomb Dome) stop (cost 180 yen - 15 min.)
Using your tour map, visit a number of exhibits including the Atomic Bomb Dome: Positioned below the epicentre, this skeleton of melted steel and concrete has been left as it was after the bomb was dropped. It stands as a stark reminder of the city's bombing on August 6, 1945.
The highlight of the Park is the Hiroshima Peace Memorial Museum. This state of the art museum focuses on Hiroshima both before and after the explosion. It also tells the story of Hiroshima's rapid rebuild into the beautiful city it is today.
On the way back to station, make sure you visit Hiroshima Castle. This castle was first built in 1589 until its destruction in 1945. Having been rebuilt in all its glory, it is now used to exhibit historic artefacts from Japan's feudal past.
Stay: Hotel Granvia Hiroshima - 1/2
Japan Package Tours will be happy to prepare you a personalised itinerary to suit your budget and preferences.
Contact us now for a no-obligation quotation.