Single package:
$2,630
Twin package:
$2,010
Triple package:
$1,810
7 Day Japan Rail Pass
JPY 1,500 Pasmo Card for use on the non JR trains
Kyoto Guided Morning Tour
Ainokura & Shirakawago Tour
Tokyo Guided Morning Tour
3 nights at the Miyako Hotel Kyoto Hachijo - Kyoto
2 nights at the Hida Hotel Plaza inc b/fast - Takayama
3 nights at the Shinagawa Prince Hotel - Tokyo
A popular tour that includes a stay in the popular cities of Kyoto and Tokyo with a fascinating little excursion to Takayama - an enchanting little town in the middle of the Japanese Alps. The thatched roof housing and splendour of the Japanese countryside makes the beauty of Takayama a astute addition to your travel plan.
Day 05: Takayama - Shirakawago - Takayama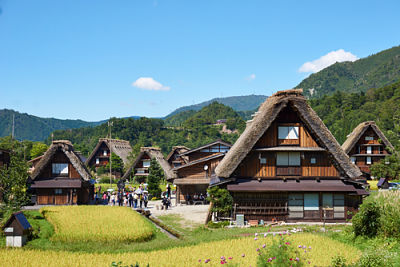 Traditional thatched roofing
Today visit Shirakawago and Ainokura on your guided tour operated by Nohi Bus. Make your way to the Nohi Bus Centre (next to Takayama Station) by 08:20 and present your tour voucher at the ticket office.
At 08:30, your tour will take you to the Mt Gokayama Ainokura Gassho Village. Here you will have 60 minutes of free time to explore this UNESCO-protected village and its steep, thatched roofed houses, some of which date back to the 17th century. Enjoy the beautiful scenery at your own pace. A local lunch is included on today's program at a venue with beautiful scenery from the observatory.
After lunch, your next stop on the tour will be the traditional UNESCO World Heritage village Shirakawago. Located in a gorgeous mountain valley, the natural setting is divine. You will find more of the same traditional "gassho zukkuri" houses here as you did in Gokayama Ainokura, some which have been renovated into museums, shops and cafés. You will have two hours to spend in this peaceful village. Make sure you walk up to the viewpoint to admire the panoramic view over the area. Your tour will conclude upon arrival at the Takayama Nohi Bus Centre at 15:10.
For dinner tonight we recommend you walk in to town and try one of the many restaurants which specialise in the Japanese "hida beef" which is delicious in sukiyaki or grilled on a hotplate.
Stay: Hida Hotel Plaza - 2/2
Japan Package Tours will be happy to prepare you a personalised itinerary to suit your budget and preferences.
Contact us now for a no-obligation quotation.